On January 30, 2016, with the death of Senator Georgia Davis Powers, the Commonwealth lost the live voice of a courageous champion for racial justice and for the betterment of women, children, and those living in poverty. Almost half a century earlier, in 1968, Powers took her civil rights activism to Frankfort as she became the first African American and the first woman ever elected to the Kentucky State Senate. Senator Powers' public service career focused heavily on the needs of women, and she often said that her preparation for being an outspoken pioneer in matters of gender started in her childhood years as she grew up the only girl in a family of nine children. Within the pages of her autobiography, I Shared the Dream: The Pride, Passion, and Politics of the First Black Woman Senator from Kentucky, Senator Powers also revealed the way in which sexual violence personally marked her teen years.
As noted by Carol Jordan, executive director of the Office for Policy Studies on Violence Against Women (OPSVAW), "One cannot reflect upon the passing of Senator Powers without feeling a deeply personal loss. She was a survivor of violence, she was an instigator of change, and she will remain a steadfast inspiration to future generations of girls and women."
During her 21 years in the Senate (1968-1989), Senator Powers sponsored legislation on fair housing; sex, age, and employment discrimination; bills to improve education for the physically and mentally disabled; and more. She also sponsored legislation to allow minors to receive health care without parental consent. She shepherded her own and other bills like these through the Health & Welfare Committee which she chaired during her time in the Senate.
In 2005, Carol Jordan began working with Senator Powers on issues related to violence against women of color. In honor of that work and her prior accomplishments, Jordan began building an endowment, and in 2012 the University of Kentucky approved creation of the Georgia Davis Powers Endowment (Senator Powers had also received an honorary doctorate from the University in 1989).  At that time, Senator Powers said, "There has always been a fight in me, and there always will be, until the injustices done to women and to people of color are finally put to rest."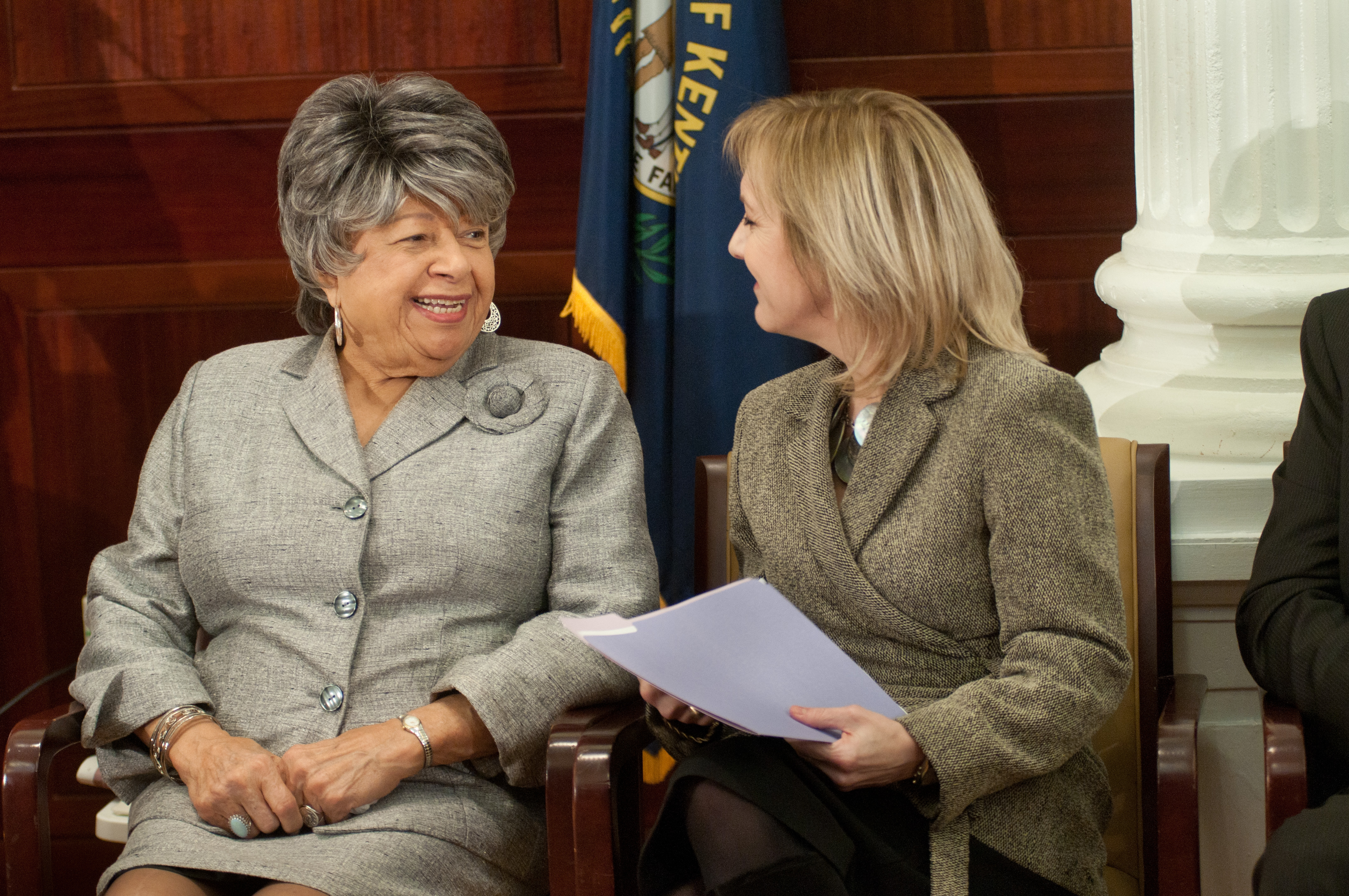 The Georgia Davis Powers Endowment symbolizes the truth that violence against women is pervasive in the United States and around the globe, crossing boundaries of race, ethnicity, class, caste and age; crossing lines of country, region, state and nation. The Endowment supports the work of graduate and professional students who, inspired by Senator Powers' life and story, study in the violence against women field.
"It has been said that the best way to honor those we have lost is not to allow the loss to occur at all.  We can achieve that by taking up the baton Senator Powers carried on behalf of those who couldn't always carry that weight and now finish her race. By continuing Senator Powers' work and advancing her causes, we show our honor and love of her," said Jordan.
Anyone interested in contributing to the Georgia Davis Powers Endowment should contact Carol E. Jordan at carolj@uky.edu.