February 21, 2022.  The Office for Policy Studies on Violence Against Women (OPSVAW) in the College of Arts and Sciences has announced the selection of graduate students who will receive OPSVAW graduate fellowships during the 2021/2022 and 2022/2023 academic years. The OPSVAW has funded and mentored 28 graduate students since 2014. 
"With the goal of developing the next generation of excellent scholars in the gender violence field who can contribute to the work of professionals and to the wellbeing of survivors, each year we prioritize supporting and mentoring graduate students," said Carol E. Jordan, Executive Director of the OPSVAW. 
The OPSVAW holds several endowments that support doctoral students. OPSVAW Endowments result from generous donations from individuals and families, foundations, and companies who share the mission to eradicate violence from the lives of women and children world-wide; as well as OPSVAW fundraising campaigns, and benefits.  
The named graduate fellowships and assistantships are inspired by the stories and accomplishments of extraordinary women and include:
The Ashley T. Judd Distinguished Fellowship
The Ashley T. Judd Distinguished Graduate Fellowship was created in 2017 and has now funded two graduate students.  Ashley Judd is well known for dexterously starring in both box office hits and for turning in unforgettable performances in fine independent films. From her debut in Sundance Film Festival grand jury prize winner, Ruby In Paradise, to Where the Heart Is, Simon Burch, Helen, De-Lovely and Divine Secrets of the Ya-Ya Sisterhood, her films tell very personal stories– which is exactly what Judd does when she is not making movies.  While Judd's acting career has spanned more than three decades, she has also become increasingly involved in global humanitarian efforts and political activism. She has been working internationally, with NGO'S, grassroots organizations, governments, and supranational bodies since 2004. Presently, she serves as Global Goodwill Ambassador for UNFPA, is the Global Ambassador for Population Services International, and also for Polaris Project. She serves on the Advisory Boards of International Center for Research on Women, Apne Aap Worldwide, and Demand Abolition. She is Chairperson of the Women's Media Center Speech Project: Curbing Abuse, Expanding Freedom. She has also served as a board member for Population Services International (PSI) and as Global Ambassador for YouthAIDS. 
In 2014, Judd was the narrator of the documentary film about Turkish preacher Fethalluh Gülen, Love is a Verb, directed by Terry Spencer Hesser. Evidencing the range of her work, in 2015 she became the first woman to narrate the opening for the telecast of the Kentucky Derby.   
Judd is a graduate of the University of Kentucky, and in 2010, earned a Master of Public Administration (MPA) from Harvard's Kennedy School of Government. Her paper, Gender Violence, Law and Social Justice won the Dean's Scholar Award at Harvard Law School. She holds an Honorary Doctor of Humane Letters from Union College in Barbourville, Kentucky and was named a distinguished alum of the University of Kentucky in 2020.  Ashley has worked closely with Carol Jordan and the OPSVAW for several years.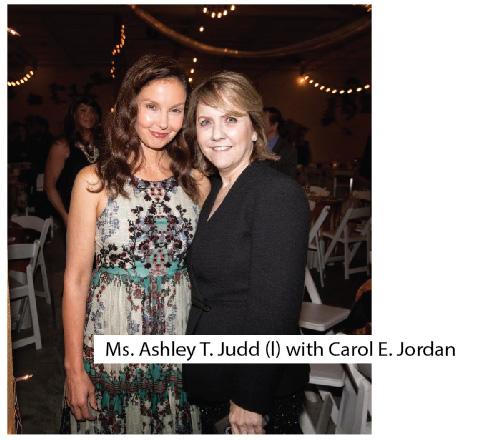 The Ashley T. Judd Distinguished Graduate Fellowship is being awarded this year to Tasnia Symoom who is originally from Chittagong, Bangladesh. Tasnia is a doctoral student in the Department of Political Science.  Her faculty advisor is Dr. Emily Beaulieu Bacchus who is Director of the International Studies program and an Associate Professor in Comparative Politics in the Department of Political Science.  The Fellowship will support her project entitled
"Violence Against Women and In-Group Identities: Exploring the Intersection of Gendered  Violence and Political Identity
." The project examines how political identities like religion and partisanship influence people's perception of different types of violence against women. Tasnia's work focuses on South Asia which has very high levels of violence against women, some of which deepens religious and political divisions, while others cause people to come together across these divides to seek justice for women. 
"I am so pleased to learn of Ms. Symoom's work and am confident it will extend our understanding of gendered violence in countries across the globe. It is only when we deepen the scope of our science and our advocacy that we can truly hope to diminish the life-threatening effects of violence in all its forms," said Ashley Judd upon hearing of Ms. Symoom's award. 
"We are delighted to support Tasnia through the Ashley T. Judd Distinguished Graduate Fellowship," Carol E. Jordan, executive director of the Office for Policy Studies on Violence Against Women, said.  "Her scholarship compels a vital focus into the varied experiences of women through the lens of multiple countries," said Jordan.
"Our department is delighted to be a part of the outstanding work and leadership shown by the Office of Policy Studies on Violence Against Women. Tasnia's research aligns perfectly with the goals and passions of this office, and she will make the most out of the opportunity provided by Ashley T. Judd's tremendous commitment to this important cause," said Dr. Clayton Thyne, Chair of the Department of Political Science.
"Tasnia's research is a perfect example of the commitment of University of Kentucky's political science department: applying rigorous scientific methods to address questions of inequality and injustice in ways that, we hope, will make life better for people everywhere in the world," said Dr. Bacchus.
The Mary Byron Research Assistantship   
The OPSVAW will also bestow the Mary Byron Assistantship during the current academic year.  The Assistantship is named for a 21-year-old woman who lived in Louisville, Kentucky. In 1993, her abusive boyfriend was arrested for kidnapping and raping her. She asked local law enforcement and corrections officials to notify her when he would be released from jail as she knew how dangerous he was to her. At the time, however, no automatic notification system was available, so Mary did not receive an alert. On her 21st birthday while leaving work, her ex-boyfriend brutally shot and killed her. Mary's death, through the dedicated work of her parents John and Pat Byron, led to creation of the statewide automated victim notification system (V.I.N.E.®), a first of its kind national resource for crime victims. The OPSVAW honors Mary Byron's life and the steadfast work of her parents through the fellowship program.
The Mary Byron Assistantship is supporting Sharla Biefeld, a doctoral student in the Department of Psychology.  Sharla's faculty advisor is Dr. Christia Spears Brown, Associate Dean of Diversity, Equity, and Inclusion and Professor and Associate Chair, Developmental, Social, and Health Psychology in the Department of Psychology.  Sharla's project is entitled Adolescent Sexual Harassment in School: High School Policies Impact on Adolescents' Experiences and Psychological Outcomes.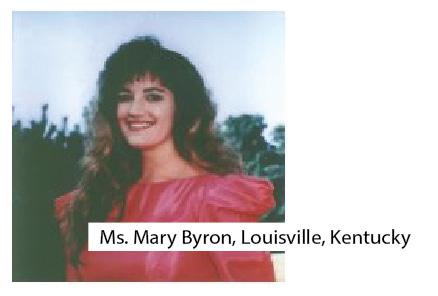 "John and I loved working with the OPSVAW to create the Assistantship in our daughter's name.  It has been meaningful for us to watch Mary's spirit come to life in the work of these amazing students who I know are inspired by Mary's life.  We are particularly pleased to learn about Sharla's work with adolescents as this early focus will give us a greater opportunity to end violence before it becomes embedded in the life of a woman," said Pat Byron, Mary's mother.
"We are uniquely honored  to use the Mary Byron Assistantship to support such a bright young scholar.  This Assistantship gives us the chance to advance research while also teaching the lesson that there are real women behind the academic work our students undertake," Jordan said.  
"We are delighted that Sharla's research on the efficacy of high school policies banning sexual harassment of students was recognized. Her research is important because it can inform what school districts can do to reduce the risk of sexual harassment and violence for their students. Beyond the importance of her research, Sharla is a fantastic scholar, Psychology graduate student, and advocate for the health and safety of women and girls," said Dr. Brown. 
The Georgia Davis Powers Graduate Fellowship  
In 1968, Georgia Davis Powers became the first African American and the first woman ever elected to the Kentucky State Senate. Even before she began her career as a senator, Georgia Powers was a great leader in the Civil Rights Movement in Kentucky. Senator Powers' public service career often focused on the unique needs of women, but her preparation for being an outspoken pioneer in matters of gender started much earlier. She was born in Springfield in Washington County, growing up as the only girl in a family of nine children.  Within the pages of her autobiography, I Shared the Dream, Senator Powers also revealed the way in which violence marked the years of her life. She is a survivor of violence, she is an instigator of change, and she is an inspiration to all future generations of girls and women.
In honor of Senator Powers and her work on behalf of women, the Georgia Davis Powers Endowment was established. The Endowment symbolizes the truth that violence against women is pervasive in the United States and around the globe, crossing boundaries of race, ethnicity, class, caste and age—crossing lines of country, region, state and nation. The Georgia Davis Powers Endowment affirms the importance of addressing race, ethnicity, and other socio-cultural factors in the study of violence against women. The Endowment supports the important research mission and work of graduate and professional students who, inspired by Senator Powers' life and story, study in the violence against women field.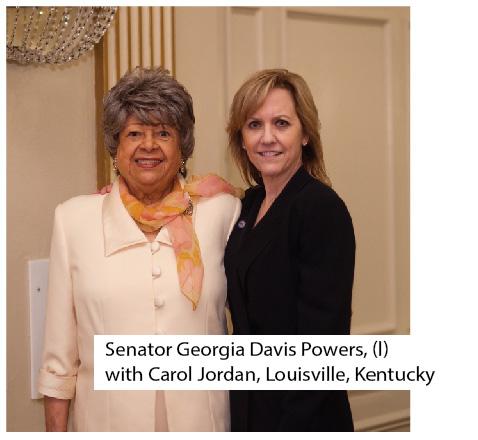 In the current year, a Georgia Davis Powers Assistantship will be bestowed upon Jesse McCann, a doctoral student in the Stress, Trauma, and Recovery Research Collaborative (STARRC) in the Clinical Program of the Department of Psychology.  Jesse's faculty advisor is Dr. Christal Badour.  Dr. Badour is Director of the Stress, Trauma, and Recovery Collaborative in the Department of Psychology.  Jesse's project, entitled
The Efficacy of Written Exposure Therapy in Reducing Mental Contamination and PTSD Symptoms in Women Survivors of Sexual Victimization
,  is designed to strengthen evidence-based interventions for women survivors of sexual victimization and other forms of violence.
"Jesse's research is part of a larger program he is developing aimed at improving treatment options for women who have experienced violence. These efforts stem from the fundamental principle that ALL people deserve access to high quality evidence-based mental health treatment, regardless of their background or ability to pay. Jesse's research is very in line with Senator Powers' life work in its aim to improve the lives of women by promoting equity social justice within the study of violence against women. We are very pleased to have Jesse supported by this award," said Dr. Badour. 
OPSVAW Fellowships
Two distinguished OPSVAW fellowships will be bestowed in the 2022/2023 academic year on doctoral students Alina Hechler and Mel Lesch from the Department of Gender and Women's Studies (GWS).  "GWS has been an important affiliate of the OPSVAW since our creation in the College.  We are pleased to further our partnership with such distinguished and esteemed colleagues by funding two of their quality doctoral students," Carol E. Jordan, executive director of the Office for Policy Studies on Violence Against Women, said.
Ellen Riggle, Professor and Chair of the Department of Gender and Women's Studies said, "OPSVAW fellowships are very competitive, and the Department is pleased that two of our doctoral candidates will receive this funding to support their timely and important research.  The fellowships allow recipients to focus on completion of their dissertation and sharing their findings as public scholarship," Dr. Riggle said.
Alina Hechler's project is entitled "Parents Who Make America Great Again: Identity Politics in Right-Wing Populist Discourses on Gender Ideology."  
Carol Mason, University Research Professor who chairs Alina Hechler's dissertation committee, noted: "Alina's analysis clarifies why anti-'gender ideology' campaigns are harmful. Her research will help people conducting policy studies on violence against women understand the political landscape, scare tactics, and disingenuous deployment of pro-women rhetoric that right-wing lobbyists are peddling," Dr. Mason said. 
Mel Lesch's project is entitled "Transgender Borderlands and Digital Hometowns: How do Transgender College Students Negotiate Neoliberal Universities?"  
Karen Tice, Professor of Gender and Women's Studies and Educational Policy Studies and, with Dr. Charlie Yi Zhang, is Mel Lesch's advisor said, "Mel's research explores the ways that trans and gender nonconforming college students navigate, resist, and challenge heteronormativity, transphobia, and gendered violence that they regularly encounter on campus and online. Mel's dissertation not only sheds light on the daily violence and exclusions experienced by gender nonconforming  students on campus, but it also foregrounds how they seek out and use digital technologies for community building, safety, and well-being ," said Dr. Tice.  
"We are delighted to support Alina and Mel through OPSVAW Graduate Fellowships," Carol E. Jordan, executive director of the Office for Policy Studies on Violence Against Women, said.  "Their scholarship compels a vital focus into the varied experiences of students through the lens of multiple genders and lived experiences," said Jordan.
For additional information regarding graduate student support, contact Carol E. Jordan at
carolj@uky.edy
or refer to the website of the .