The OPSVAW Announces it Will Fund Two Named Graduate Fellowships in the 2019/2020 Academic Year
The Office for Policy Studies on Violence Against Women (OPSVAW) in the College of Arts and Sciences announced today the selection of two graduate students to receive named graduate fellowships during the 2019/2020 academic year. The students were selected following a competitive proposal process the OPSVAW holds each year.
"Support of graduate students is among our top priorities," said Carol Jordan, Executive Director of the OPSVAW. "The fellowship program gives us a substantive opportunity to advance developing scholarship in the short term, and by what these young scholars do in their future careers, to meaningfully contribute to ending gendered violence," said Jordan.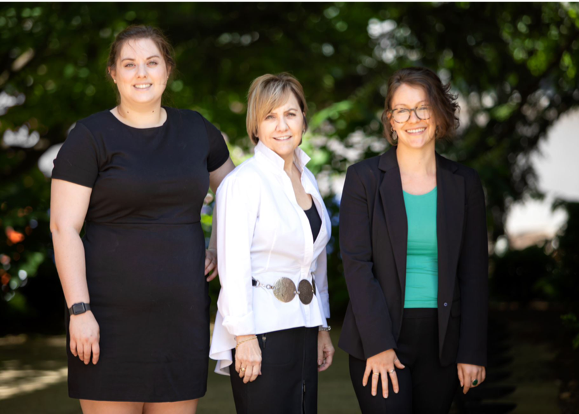 Carol E. Jordan, Executive Director, OPSVAW (center) with Victoria Beall (left) and Helen Kraus (right), Department of Political Science
The named graduate fellowships are inspired by the stories and accomplishments of two women and include:
The Ashley T. Judd Distinguished Graduate Fellowship
The Ashley T. Judd Distinguished Graduate Fellowship was created in 2017.  Ashley Judd, a University of Kentucky alumna, feminist and social justice humanitarian, has a long history of working internationally with nongovernmental organizations, grassroots organizations, governments and supranational bodies. She currently serves as global goodwill ambassador for the United Nations Population Fund and is the global ambassador for Population Services International and for Polaris Project. She serves on the advisory board of the International Center for Research on Women and is chairperson of the Women's Media Center Speech Project: Curbing Abuse, Expanding Freedom. Ashley was the first actress to go on record about the exploitive behavior of Harvey Weinstein, providing fuel to advance the growth of the #MeToo Movement in the United States and around the world. She is a longstanding partner to the OPSVAW at the University.
The Ashley T. Judd Distinguished Graduate Fellowship is being awarded to Helen Kras in the Department of Political Science. Helen also received the Fellowship in its inaugural year in 2017. She is a year 3rd year doctoral student in the Department of Political Science with a research focus on violence against women in Latin America. Her dissertation, which will be supported by the Fellowship, is entitled "The Political Consequences of Violence Against Women: How Victims and Non-Victims Form their Opinions about the Government."  Helen's faculty advisor is Dr. Abby Córdova, Associate Professor in the Department of Political Science.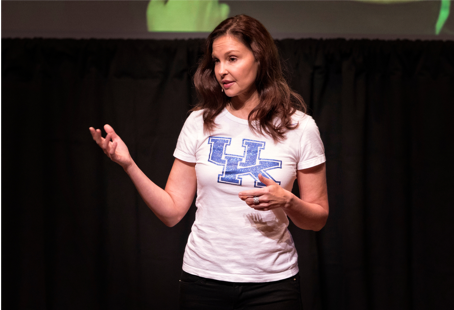 Ashley Judd provides Rosenstein Lecture on UK's Campus on December 1, 2017
"We are very pleased to have the opportunity to support Helen again through the Ashley T. Judd Distinguished Graduate Fellowship. Her scholarship uniquely and effectively advances comparative research into the varied experiences of women through the lens of multiple countries," Carol E. Jordan, executive director of the Office for Policy Studies on Violence Against Women, said."Congratulations to Ms. Kraus on her Fellowship. Her diligence with her scholarship is impressive and important. I wish her all the best with her ongoing academic work and look forward to reading her dissertation," said Ashley Judd upon hearing of Ms. Kraus' award. 
Mary Byron Fellowship   
The OPSVAW will also bestow the Mary Byron Fellowship during the coming academic year.  The Fellowship is named for a 21-year old woman who lived in Louisville, Kentucky. In 1993, her abusive boyfriend was arrested for kidnapping and raping her. She asked local law enforcement and corrections officials to notify her when he would be released from jail as she knew how dangerous he was to her. At the time, however, no automatic notification system was available, so Mary did not receive an alert. On her 21st birthday while leaving work, her ex-boyfriend brutally shot and killed her. Mary's death, through the dedicated work of her parents John and Pat Byron, led to creation of the statewide automated victim notification system (V.I.N.E.®), a first of its kind national resource for crime victims. The OPSVAW honors Mary Byron's life and the steadfast work of her parents through the fellowship program.
"John and I loved helping to create the fellowship in our daughter's name and have been so pleased to watch Mary's spirit come to life in the work of these amazing young doctoral students.  She continues to live through their work, and I know she inspires them. Both of these mean so much to our family," said Pat Byron, Mary's mother.
"We are uniquely honored  to bestow the Mary Byron Fellowship to advance the career of a bright young scholar while also teaching the lesson that there are real women behind the academic work they do," Jordan said. "Our students learn Mary's story as they study and conduct research, giving profound purpose to their academic careers as they also add to the field with their scholarly contribution and maturing expertise."
The Mary Byron Fellowship is being awarded to Victoria Beall, a 4th year doctoral student in the Department of Political Science.  Her dissertation focuses on women's legislative effectiveness and women's representation in Latin America. In particular, she will address the evolution in how conservative female legislators advance legislation on violence against women in an effort to represent conservative female constituents. Victoria's faculty advisor is Dr. Tiffany Barnes, Associate Professor in the Department of Political Science.
Clayton Thyne, Professor and Chair of the Department of Political Science offered, "The Political Science department is profoundly proud of our students' work, and we are honored to see them supported with the Mary Byron and  Ashley T. Judd fellowships.  Not only are Victoria Beall and Helen Kras excellent scholars, but they also care deeply about improving the human condition.  These funds will allow them to produce top-notch dissertations to support their studies of violence and inequality," said Thyne.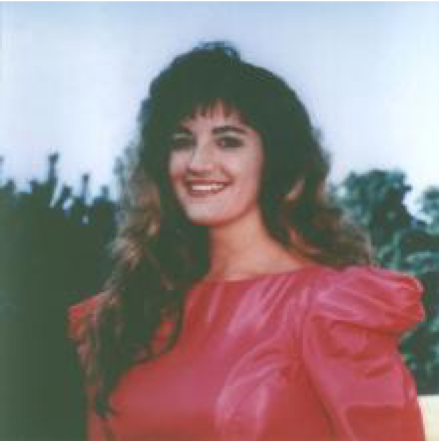 Mary Byron Attending Her Sister's Wedding, Louisville, Kentucky
For additional information regarding graduate student support, contact Carol E. Jordan or refer to the website of the OPSVAW.